About
San Antonio Police Officers' Association
history
Established in 1946
The San Antonio Police Officers' Association has a singular focus to represent, preserve, and protect the benefits earned through dedicated service to our community.
The Association leadership are uniformed officers elected by the membership and entrusted with carrying forward the message of service and integrity to the City of San Antonio.
danny diaz
SAPOA President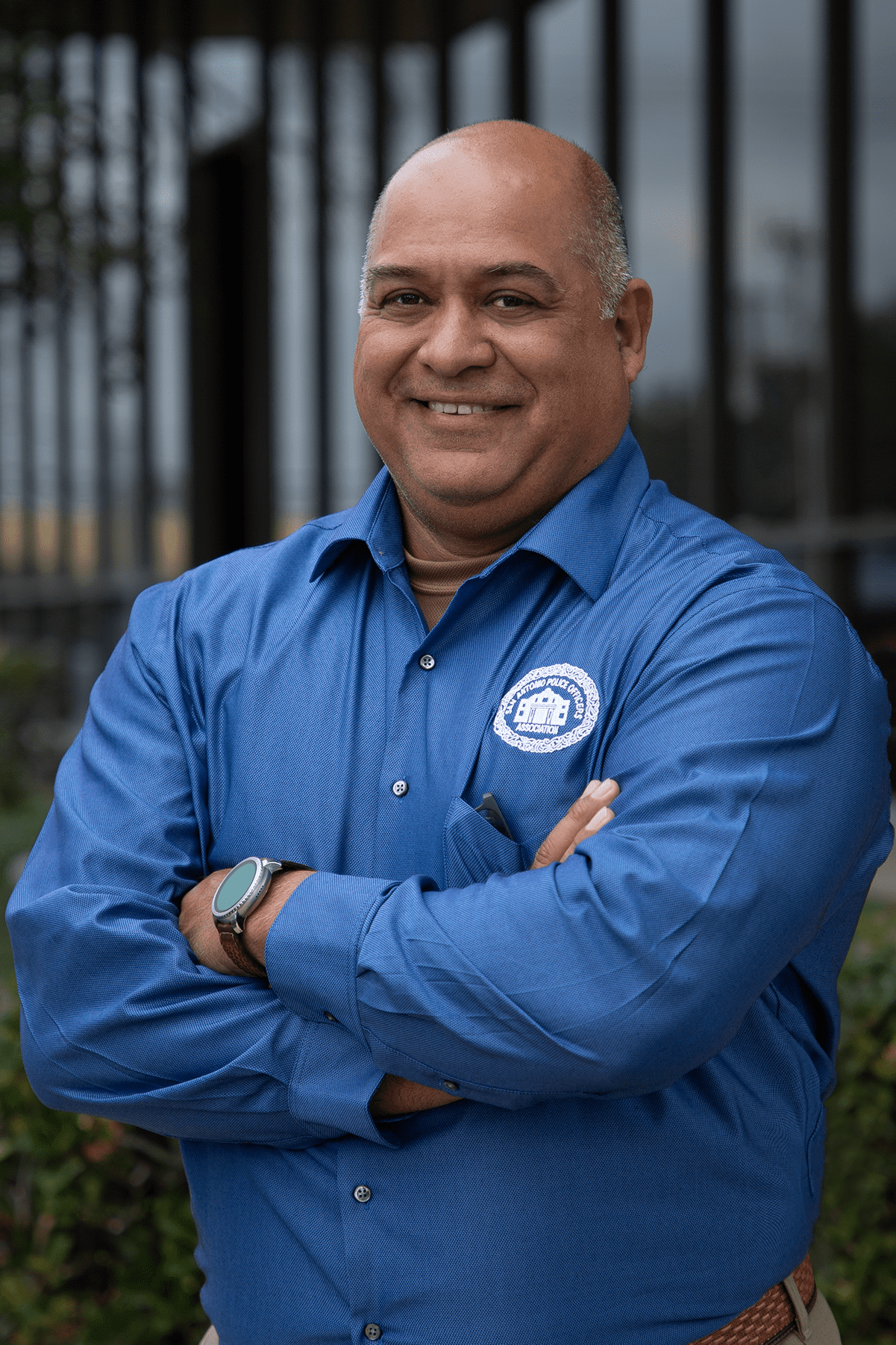 Danny Diaz was sworn in as president of the San Antonio Police Officers' Association on February 1, 2021. Before being elected to lead SAPOA, Diaz served for nearly 30 years with the San Antonio Police Department.
During his tenure with the Department, Diaz served on South Patrol, in the Street Crimes Unit, and for 20 years as a member of the Special Weapons and Tactics (SWAT) unit. While executing a narcotics warrant in 2010, he was shot 3 times. For his service, he was awarded the Meritorious Conduct Award and the Purple Heart. He has also earned several merit awards for apprehensions.
In addition to his public service, Diaz takes time to mentor and coach San Antonio youth. He has been a CYO coach for 14 years and has coached the basketball and baseball teams at St. Gregory the Great Catholic Middle School.
Danny Diaz is a graduate of Thomas Jefferson High School where he played football, basketball, and baseball. He subsequently received a scholarship to Dallas Baptist University for baseball, later finishing his degree at Texas State University. Diaz is a lifelong resident of San Antonio, is married, and has 5 children and 4 grandchildren.
Executive Board
The San Antonio Police Officers' Association (SAPOA) is led by a dedicated and selfless team of officers who focus on taking care of the members and their families. The Executive Board comes from within the ranks and each role has a purpose and area of expertise. This team is the voice of the Association and they serve the membership to the best of their abilities.
These dedicated and selfless members have contributed greatly to making our Association what it has grown to become. Throughout the years these members have guided this organization from a social group of officers to the State's most modeled police labor organization. The entire time they have continued to work with community leaders, building mutual trust and respect.
The Executive Board members provide much-needed support for the president. They provide the stability within our organization and advocate for the needs of the entire Association.
Past Presidents
We cannot overlook the leaders from our past that set the tone for our future. The past presidents of the San Antonio Police Officers' Association laid the foundation for who we are today.
The presidents below gave of themselves to represent the needs of thousands of officers throughout the 60-year history of SAPOA.
We owe them a debt of gratitude and thanks for a job well done.
William M. Porter
1946-1947
Alfonso G. Peeler
1947-1948
William Lambkin
1952-1953
Jack P. Westbrook
1954-1955
Jack O. Larned
1958-1960 | 1963-1964
Robert Hernandez
1960-1962
Israel "Ike" Garza
1965-1966
Abelardo "Abe" Flores
1968-1969
A.M. "Zeke" Zalesky
1971-1973
Gerald P. Clancy
1973-1979 | 1991-1996
Alfonso G. Peeler
1976-1977
William B. Wolfe
1980-1981
Robert E. Rudewick
1981-1985
Harold W. Flammia
1985-1988