"IF IT DRAWS ON YOUR HEART TO SERVE, IT'S WHAT YOU MUST DO."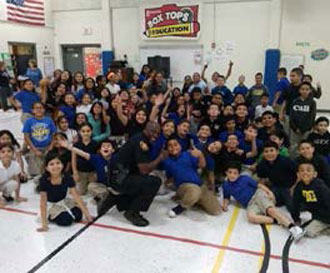 Officer Alonzio Hardin knows that his job requires him to wear a lot of hats, but that's one of the things he loves about it. Hardin, who grew up on San Antonio's East Side is a father, a grandfather, a U.S. Army veteran, and he's been with the San Antonio Police Department since 2007. As a patrol officer, Hardin worked as a traffic enforcement officer and he has been a member of the of the Family Assistance Team for the last 10 years. He currently works as a SAFFE Officer at the East Substation and serves as Vice President of the San Antonio Black Police Officers Coalition.
When asked why he joined the Police Department, Officer Hardin said that after serving in the military, he wanted to join a profession that "would allow me to serve the community in which I grew up, and be a part of the change we needed." That's what drew him to the job, he said. "I believe I have excellent people skills and I wanted people in my community to see that you can go out and serve your country, then come home, be a police officer, have a family and not allow any of the negativity in your upbringing to keep you from achieving your dreams."
Officer Hardin also thought his experience in other countries, through his service in the Army, would be beneficial in reaching out to young people in his community. He said that "being a SAFFE Officer allows me to talk to young kids and adults, some of whom have never even left the East Side. So telling them about some of the things I've seen in other countries and about the cultures I've experienced is something important for them to be exposed to. I love telling them about what the world outside is really like."
His ability to bring a balanced perspective to the job is one of the things he likes most about being a police officer. "Having military experience and growing up African American and now being in law enforcement, I'm really happy that I can see things from both perspectives and maintain an unbiased opinion about things," said Hardin. "This job allows me to get in front of people in the community who are not well-versed in the law but also to talk to officers who may lack cultural perspective in some situations." He said this balance is "creates a win-win situation. I'm not just an enforcer, but an educator, and an influencer, for both sides." The open dialogue he has with the community he says prevents him from "coming off as biased. I try to have open conversations with both sides."
So what does Officer Hardin see as some of the biggest challenges facing police officers today? He says that "although there are some officers that make bad choices, as seen we've seen lately," citizens need to "understand that the vast majority of officers are sworn to maintaining their oath, to serve and protect," and that his fellow officers "shouldn't let all the antipolice rhetoric get them down." With some of the negativity in the media and elsewhere aimed at police, some officers, he says are thinking to themselves, "why am I doing this?" He says he just reminds himself "this is a calling and if it draws on your heart to serve, it's what you must do." He also credits his wife for his strength and positive attitude, saying that she understands his vision and passion for helping the community.
Officer Hardin says that over the years there have been a lot of changes in policing that have improved accountability, on both sides, including new community policing strategies, new technologies such as body cameras and audio, and stronger recruiting standards. "If you take the long view," he says "there has been very positive advancement in policing. Police officers must acknowledge the past wrongs and keep on working to improve. Just as we say nobody knows what it's like to walk in the shoes of an officer, we must also be able to walk in the shoes of someone like the people I grew up with."
If he could speak directly to the average citizen, Officer Hardin says he would tell them: "Police Officers are not robots, we are people, we have wives, husbands, children, and we deal with the same everyday issues that you do." He says he does his job well and wants to be allowed to do it. "Allow us to do our job and understand that respect goes both ways."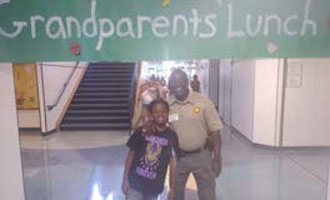 He wants people to understand that "most of the time, an officer just wants the interaction to be over quick and fast. That's why it's much easier to cooperate with us. It can really deescalate a whole lot of situations. I often say that the biggest tool officers have can't be found on our duty belt. The biggest, most powerful tool in our toolbox is the ability to effectively communicate with citizens and leave them with their dignity at the end of our interaction." Officer Hardin also says people should respect that "without law and enforcement, there would be chaos." That said, he also wants people to feel free "to come up and talk to us, shake our hand and have a conversation. Unfortunately, most interactions that people have with police are because something negative has happened, so when there's an opportunity for a positive interaction, people shouldn't hesitate to reach out and say hello, or how's your day going?"
Out of all the hats he wears, Officer Hardin says "the one I'm most honored to wear is that of San Antonio Police Officer."